Military Career
Flo was built in 1991 and started her working life soon afterwards with the RAF as an airfield ambulance. Most of her career was spent at RAF Northolt in London. Her service number was 10KK01 and she was usually found wearing a fetching shade of olive drab with blue accessories. Under the bonnet was to be found a 3.5l V8 petrol engine that must have done about 3 miles to the gallon, down hill with the wind behind her.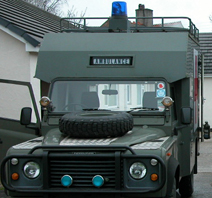 Demob
After discharge in 2003, she was looked after by a very caring couple and spent a few years attending various land rover and military shows around the country in her uniform and then even had a five page spread (with centrefold?) in one of the many land rover magazines.
Preparation for the Journey around the Southern Hemisphere
Florence was picked up by us in Huddersfield on a very wet Saturday morning in January 2008. Thoughts and ideas for the conversion started then, particularly modifications to increase the fuel economy and steady the ride. What followed then was two months of very intensive thinking before the preparations, conversions and modifications began slowly in March of the same year. The first jobs were stripping out the specialised ambulance fixtures and fittings, including the stretchers, oxygen flow meters, blue lights, etc.
After stripping out all of the medical equipment, the "camper" equipment had to be installed. But first she went away to Lincolnshire for engine and gearbox conversion to a 300Tdi diesel engine and new gearbox. Whilst there she got a full power train inspection and overhaul where necessary. Also, a very welcome and complete respray was carried out resulting in a very smart new image.
As we are going to depend on Florence for shelter as well as transport, it is important that we can fit everything in the back. Here we see the difference in rear load space between Joe and Flo.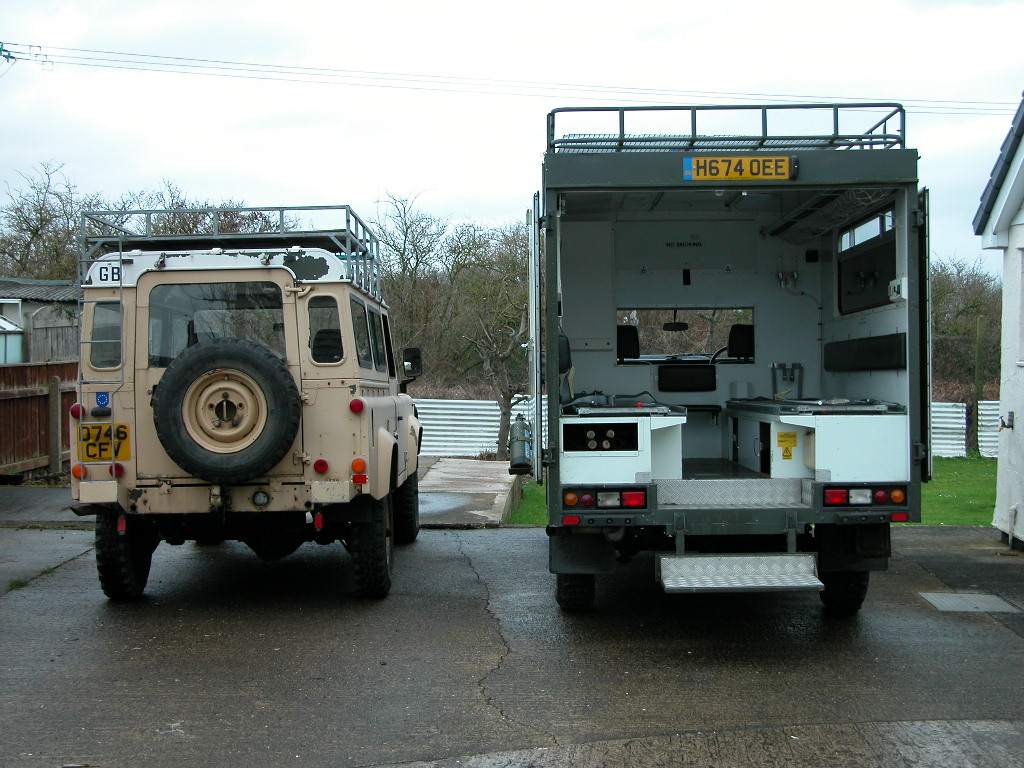 On return to N. Wales, the galley and toilet/shower room were installed and plans for the lounge/sleeper were mulled over.
The new Interior is still rather Spartan and not too unlike the original fit, all very white and clinical. However new windows were fitted and a few other bits and bobs too.
All the details will be added soon.
Selected Pictures will also be added soon