In 1996 Ash, Gill, Pete and Joe journeyed up the Eastern side of Africa from Johannesburg, South Africa to Northampton, England. The journey was the first one following this route for some years due to the turmoil that had been present in that region particularly the war in Ethiopia that resulted in the secession of Eritrea.
Joe was our 1987 ex-British Army 2.5l normally aspirated diesel Land Rover 110 hard top. Not the most luxurious mode of transport in the world but a very rugged and dependable overland vehicle.

We left Johannesburg on Sunday 15th September 1996 and arrived in Northampton 48 days later on 2nd November 1996. Above is a photograph of Ash and Joe on a Malawian road. We had stopped to appreciate the depth of the ruts in the tarmac. It was like driving on rails, great as long as you were happy going where the rails took you!
 Reliability of the Land Rover
Mechanical difficulties were few and far between, as befits the reputation of the Land Rover. The snags included two flat tyres (actually the same one that we tried to patch), a dodgy starter motor (fixed with a coil of locking wire), a broken passenger door handle (fixed with a hammer and chisel) and a cracked rear door (so we put the second spare on the roof rack).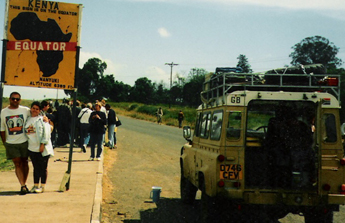 Here's Ash, Gill and Joe at the Equator, in the background you can see tourists watching the famous experiment. By the front wheel you can see the jug we used to do our own experiment (mean or what!).
 United Kingdom
We made it home at 0200 on Saturday 2nd November 1996, Robin was waiting in the road with a lantern and can of beer to guide us in. Even though we hadn't warned them of our impending arrival! (spooky...)
By Monday morning Ash was back at work in the 125 International Field Support office at Luton Airport still wearing shorts and flipflops (but not the Donald Duck T-Shirt).